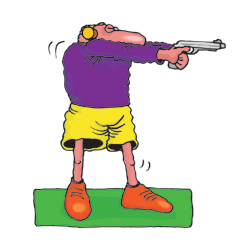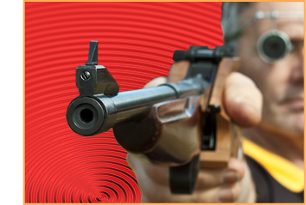 Busy times ahead in coaching. Have started coaching Saturday mornings at Cockburn Fremantle with great success. A bit cold and wet but it's undercover and a warm atmosphere. Places still available just contact me to book your spot.
Any coaches out there sick and tired of hearing from shooters............
"I'll just go back to basics"!
I don't know what top shooters do differently besides just do the basics real good. Nothing like just seeing sights, smooth press and follow through. Go back to Basics? I thought that's what you were endeavouring to do? But here's the difference, try and do it
"correctly"
! Seems to me to be a pretty good cop-out from doing a little extra brain work to simply hold the gun as still as you can, get the sights aligned and press the trigger smoothly.
My rant for the month..................
News just to hand............
Final Results of Competition at the WA1500 European Championships
Congratulations to Linda Jekel and all the Aussie team members!
4 Man Team Revolver: Jamie Longbottom (QLD), Brandan Ede (QLD), Linda Jekel (WA) – 2nd
4 Man Team Pistol: David Oates (NSW), Jamie Longbottom (QLD), Brandan Ede (QLD), Linda Jekel (WA) – 2nd
National Teams revolver: 3rd
Off duty revolver: Linda Jekel (WA) - 10th
High score female Revolver: Linda Jekel (WA) – 1st
High score female Pistol: Linda Jekel (WA) – 1st
European Precision Pistol: Jamie Longbottom (QLD) – 3rd, Brandan Ede (QLD) – 5th
Stock Revolver: Linda Jekel (WA) – 5th
Distinguished Pistol: Davey Oates (NSW) – 6th
Open Match: Linda Jekel (WA) – 3rd, Davey Oates (NSW) – 4th, Brandan Ede (QLD) – 7th, Jamie Longbottom (QLD) – 10th
Pistol 1500: Davey Oates (NSW) – 1st, Jamie Longbottom (QLD) – 4th, Brandan Ede (QLD) – 14th, Linda Jekel (WA) – 5th Master grade
Revolver 1500: Brandan Ede (QLD) – 1st, Jamie Longbottom (QLD) – 3rd, Davey Oates – 5th, Linda Jekel (WA) – 9th