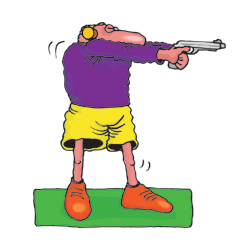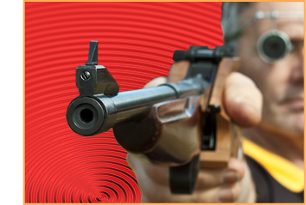 So.....you can call a shot?

Years ago I recall a story a coach told a group of us about how this guy wanted to shoot 550's in Free Pistol. Not a hard task, as he was shooting around 540's regularly but never really cracked 550+.

The coach asked the guy to set up and shoot. He proceeds to shoot 10's and 9's as per normal and then drops in an 8. Reloads to carry on..........."wait" calls out the coach, "What happened then"? The shooter explains he usually shoots a few 8's and is just a "given" that this will happen.

But what actually happened asked the coach? Well the pistol kind of went out that way and drifting out it just fired. Did you call it the coach asked. Yes, it felt it went out in that direction so I vaguely recall the sights as being slightly out that way so I called it out there, somewhere.

Pretty alarmed at this perception the coach spoke to him about really seeing what is going on. He handed him a piece of paper and took his scope away from him and asked him to fire a shot and draw the sights as the shot broke in relation to the target. So what he sees as the shot breaks.

The shooter proceeds to do this and with each shot draws what he saw or thought he saw. After about eight shots he had 3 nine's, rest ten's.

Now he was on the way to shooting 550+..........

Not saying you should go out a draw little pictures every time you shoot, just take a look at what is happening to your sights.

Disclaimer for this website www.pistol-shooting.com All the information on this website is published in good faith and for general information purpose only www.pistol-shooting.com or its owner, does not make any warranties about the completeness, reliability or accuracy of this information. Any action you take upon the information you find on this website, is strictly at your own risk. The owners of the site will not be liable for any losses and/or damages in connection with the use of our website or its information regarding training techniques or firearm use or modifications. From our website, you can visit other websites by following hyperlinks to such external sites. While we strive to provide only quality links to useful and ethical websites, we have no control over the content and nature of these sites. These links to other websites do not imply a recommendation for all the content found on these sites. Site owners and content may change without notice and may occur before we have the opportunity to remove a link which may have gone 'bad'. Please be also aware that when you leave our website, other sites may have different privacy policies and terms which are beyond our control. Please be sure to check the Privacy Policies of these sites as well as their "Terms of Service" before engaging in any business or uploading any information.
Consent: By using our website, you hereby consent to our disclaimer and agree to its terms. Update: Should we update, amend or make any changes to this document, those changes will be prominently posted here.