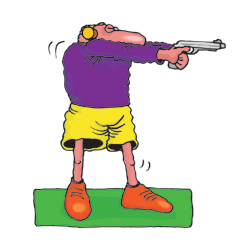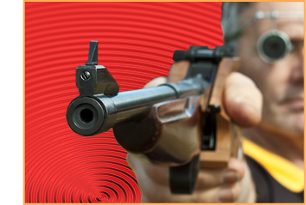 What have we Learn't

I guess the best part is that someone has learn't how to use "Spell Check". The letters coming through now are much easier to read with correct hyphenation and quotation marks! Job well done.......see even the little people can reach the computer screen to check stuff.
Well I guess I'm all done now. Doctors orders to take a holiday/break from the stresses of just trying to "help out". So with that, I'll be taking a holiday for some time away from pistol shooting..........OK, stop cheering people of little hair and height.
Books will continue to be on sale as the funds still help needy families in Bali and Thailand as they have done for many years since it was first published with the first three editions being sold through our Association for the purchase of SCATT machines for the Coaching Council, a fact very few people know about.
But during my journey it was fun seeing the State Squad (under my watch) as some @#$% put it, never, apart from once I think, finish worse than 4th place overall. Always being in the top three made us all proud, (under my watch) as they put it. Well since I departed, some three and a half years ago, the teams overall result has slipped dramatically (NOT under my watch) mind you, to a miserable 5th place. And still I'm getting flack for this. I know, why don't we play around with the selection process? It's bound to fuck things up even more. Maybe change the way we run shit..........not like to old ways because that only worked once.....did I mention WA won the Manton Shield (under my watch) as someone mentioned?
Anyway getting side tracked........again.........I'd like to thank all the people I helped over the years and yes some of you did shoot very well after some coaching from me. I remember one lady shooter in tears because she "forgot" how to shoot! Well after some words and instructions getting her brain back into gear, she got picked for a World Cup event..........so fulfilling. Another one still holds the records in another state! Fuck me if I'm lying............others attained National titles, Nationals place getters and some were even selected for World Cups and even some Olympics.
The best part is knowing you had a major role to play in some of the winning individuals and teams events.
Well I'm off now to have a holiday and wish everyone all the best in shooting.
Shooting tip #27, Always check your target before you shoot!
Disclaimer for this website www.pistol-shooting.com All the information on this website is published in good faith and for general information purpose only www.pistol-shooting.com or its owner, does not make any warranties about the completeness, reliability or accuracy of this information. Any action you take upon the information you find on this website, is strictly at your own risk. The owners of the site will not be liable for any losses and/or damages in connection with the use of our website or its information regarding training techniques or firearm use or modifications. From our website, you can visit other websites by following hyperlinks to such external sites. While we strive to provide only quality links to useful and ethical websites, we have no control over the content and nature of these sites. These links to other websites do not imply a recommendation for all the content found on these sites. Site owners and content may change without notice and may occur before we have the opportunity to remove a link which may have gone 'bad'. Please be also aware that when you leave our website, other sites may have different privacy policies and terms which are beyond our control. Please be sure to check the Privacy Policies of these sites as well as their "Terms of Service" before engaging in any business or uploading any information.
Consent: By using our website, you hereby consent to our disclaimer and agree to its terms. Update: Should we update, amend or make any changes to this document, those changes will be prominently posted here.