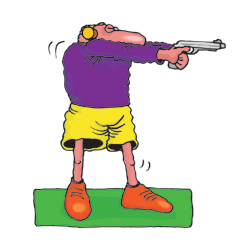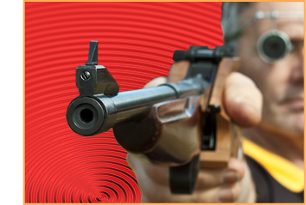 Thank You

A BIG thank you to all my readers and followers of this site............I get a kick out of seeing my site reports each month.

Recently I did a coaching session with some shooters and I asked what they had been doing with other coaches/instructors etc. It seemed the main focus was dry fire on a spot on the wall at home and getting position "just right". Dry fire consisted of knowing when to release the shot "at that moment" when it was right.

There had been no talk of wobble area, getting sights aligned, press whilst sighting or even follow through and how to follow through.

Years ago my mate that has since passed away, used to class some coaches as a "stance coach". They would spend hours getting stance just right but unable to discuss any of the " important" issues such as sighting and trigger.

Most coaches know that you can (and some do) have an unorthodox stance but still shoot good due to getting sights aligned and having a smooth press. Sure it it important to have a consistent stance/position to allow the arm to be in the same position on the target, but some latitude may be allowed. Get the stance and forget about it. I would have used Ramset bolts through the feet sometimes but people are a bit squeemish about blood on the range....go figure?

Anyway, during sessions we run, emphasis is on the application of the shot e.g. Sighting, smooth press, follow through. We also give as much attention to shooting with "eyes closed".

Once we start the main training sessions, we also shoot with the non preferred arm. This does seem difficult to do but it is amazing how people quickly adapt to this. This has a two part effect. It gives both sides of the body an equal workout and also activates the other side of the brain. It is surprising how many shooters are able to hold their shots in the black even when the grip feels strange, hand wobbles more, and stance is different..........

Some shooters have never done "eyes closed" stuff. This feeds the subconscious and gets the shooter to feel how smooth the trigger press and recoil is. Recoil seems to "slow down", seems to be less and recoils straight up the arm into the shoulder. Just another sensory thingy we don't utilise enough. Don't be worried about where the shots go on the target, they tend to spread a fair bit. We generally start off a training session with blank target and then eyes closed. This takes about 15 minutes. Then we continue with other training drills.

Follow these steps carefully and in a safe environment. Care taken at all times.
Live fire on target EYES CLOSED. When you have the sights aligned in your area of hold and know that if the shot was to be released 'now', it would be a good shot, close the eyes and feel the trigger press until shot breaks. Do the trigger press in the normal time once the eyes are closed and probably about 2-3 seconds later the shot breaks.
DO NOT OPEN EYES UNTIL PISTOL IS RETURNED TO BENCH. Opening the eyes straight after the shot release will show you sights misaligned and all over the target......a bad mental picture to feed the brain. Do not be concerned at shot placement. Naturally with time the size of the group will become smaller due to body and muscle awareness. The last thing your minds eye sees is the perfect sights, aligned, on the blurred target. Closing the eyes you will still be able to imagine that sight picture giving the subconscious something to think about.


Disclaimer for this website www.pistol-shooting.com All the information on this website is published in good faith and for general information purpose only www.pistol-shooting.com or its owner, does not make any warranties about the completeness, reliability or accuracy of this information. Any action you take upon the information you find on this website, is strictly at your own risk. The owners of the site will not be liable for any losses and/or damages in connection with the use of our website or its information regarding training techniques or firearm use or modifications. From our website, you can visit other websites by following hyperlinks to such external sites. While we strive to provide only quality links to useful and ethical websites, we have no control over the content and nature of these sites. These links to other websites do not imply a recommendation for all the content found on these sites. Site owners and content may change without notice and may occur before we have the opportunity to remove a link which may have gone 'bad'. Please be also aware that when you leave our website, other sites may have different privacy policies and terms which are beyond our control. Please be sure to check the Privacy Policies of these sites as well as their "Terms of Service" before engaging in any business or uploading any information.
Consent: By using our website, you hereby consent to our disclaimer and agree to its terms. Update: Should we update, amend or make any changes to this document, those changes will be prominently posted here.